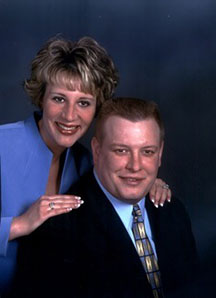 Holland, Barry & Bennett Funeral Home is solely owned and operated by Christopher and Lesleigh Bennett.
Christopher is a veteran that served in the United States Marine Corp as an engineer (1371).
Christopher is a member of the American Legion Post 263 in Lincoln IL.
Christopher is also a founding member of the Marine Corps League (Bob Graue detachment) in Lincoln IL.
Christopher Bennett
I was born in Lincoln, Il, the son of Charles E. Bennett and Charlotte J. (Sefton) Bennett. I have one sister, Cynthia who is two years younger. I grew up as a member of Lincoln Christian Church. I attended West Lincoln Elementary School K-8th.
I raced quarter midgets and had my picture in children's National Geographic magazine. I had the opportunity to attend Space Camp in Alabama. I played youth league football and was named player of the year. I attended Lincoln Community High School and Graduated in 1992 as the last Lincoln High School Wrestler to win the Big 12 Tournament. I was a letterman in Football, Wrestling, Track, and Band.
The day after high school graduation I left for the Marine Corps. I spent a total of eight years in the Marine Corps and Marine Corps Reserves as a combat engineer. I attended Lincoln College for a year, and moved on to Methodist School of Nursing in Peoria, Il.
I decided after a couple of years that nursing just wasn't for me and decided to give Mortuary Science a try. I attended Mid-West College of Funeral Service in Clarksville Indiana. I was a member of the PI Sigma Eta honor fraternity. I knew at that time, I had found what I was going to do with the rest of my life. I worked for the largest funeral home in Springfield, IL for 6 and 1/2 years. I then moved back to Lincoln and started Bennett Funeral Home with my wife Lesleigh.
Lesleigh Bennett
I was born in Herrin, Illinois the daughter of James L. and Tina M.(Davis) Simpson. I am honored to have one sister, Mariessa who is four years younger. I attended Herrin Elementary School and Herrin Junior High School. I graduated from Herrin High School with a 4.0 grade point average and two years in the National Honor Society.
I graduated Magna Cum Laude from Southern Illinois University at Carbondale with a Bachelors degree in applied science majoring in Mortuary Science and Funeral Service. While attending SIUC I was honored with seven high honors plaques and certificates, received scholarships from Trigard Burial Vault, the Illinois Funeral Director's Association, the National Funeral Director's Association, and the Egyptian Funeral Director's Association.
I was honored to have two articles published in "The Director" and the "Dodge" Magazine, both on women in funeral service. While in college I had the privilege to work full time for Hughes Funeral Homes Ltd. in Herrin and Marion, IL. Upon graduation I served my internship and apprenticeship at a large funeral firm in Springfield, IL.
Wanting to broaden my horizons and gain more experience with meeting families I worked at Brintlinger & Earl Funeral Homes in Decatur until the opening of Bennett Funeral Home with my Husband Christopher in April of 2004.
This past year I began a christian recording venture with Daywind Records and released my first album entitled "No Mountain Too High" in April of 2008. The past six years have been an exciting adventure and have opened the doors to opportunities I look forward to meeting the rest of my life.