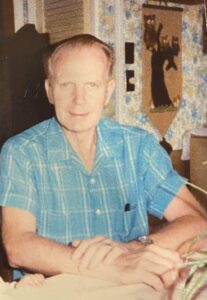 Charles L. Lyon, 87, of Lincoln, passed away Sunday, December 27, 2020 at St. Clara's Rehab and Senior Care Center.
Visitation will be from 10 AM until 12 Noon Thursday, December 31, 2020 at Holland Barry & Bennett Funeral Home. Funeral services will follow at 12 Noon with Pastor James Williford officiating. Burial will be in Zion Cemetery.
Per CDC Recommendations for Covid-19 proper social distancing must be observed and facial coverings must be worn.
Charles was born August 8, 1933 in Allegre, KY., the son of Wallace Raymond and Hazel Marie (Slaughter) Lyon. He was raised in Allegre, working on his family tobacco farm. He married Ina Lou Tooley on March 14, 1953 also in Allegre, KY. He and Ina moved to IL in 1954. Together, they had 5 children. They later divorced. Charles married Emily Sandel in 1977. He had several nicknames in his lifetime; Tink (as he was known by relatives in KY and some in IL), Red (because of his red hair), and Charlie. He loved to watch westerns, Family Feud, the news, and Dr. Phil. He loved animals and was devastated when he had to put his dog Shadow to sleep. Charles worked all his life for farmers, Stetson's China Factory, and the Botttle Factory where he retired from in 1996 after 30 years of service. He loved going out to eat at Bonanza and enjoyed driving through the park looking at deer.
Survivors include three daughters: Jo Ann Goff and Judy (John) Ross both of Lincoln, IL., and Lisa (Dave Jones) Francis of Mason City, IL.; two sons Thomas (Patty) Lyon of Lacey Springs, AL. and Tim (Loy) Lyon of Beason, IL.; brother Benny (Linda) Lyon of Elkton, KY.; sisters in law Dorothy Lyon and Betty Lyon; 14 grandchildren and 30 great grandchildren. He is also survived by 3 step children: Sandy (Gary) Wampler, Sylvia (Dale) Wampler, and Charles (Joyce) Kirk. Several nieces and nephews also survive.
He was preceded in death by his first wife Ina (Lyon) Carter and second wife Emily Lyon, his parents, and 2 brothers Ralph Lyon and Paul Lyon.