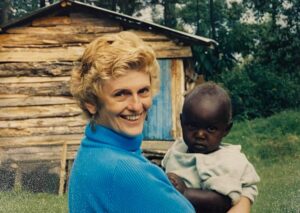 Barbara Lucille O'Donohue, 77, of Lincoln, passed into Glory August 18, 2020 at home surrounded by her loving family.
Cremation rites have been accorded by Holland Barry & Bennett Funeral Home. Memorial services will be held at a later date .
Barb was born September 26, 1942 in Chicago, IL., the daughter of Harry "Bud" and Lucille (Brogan) Britton. She was a member of Lincoln Christian Church. Barb was a missionary with a servant's heart, she loved people and was also an avid animal lover. She had a strong faith and was a devoted mom, grandma, and great grandma. She was the founder and Executive Director of COPE Ministry (Children of Pokot Educational Fund) in Kenya, Africa. She spent the last 20 years of her life dedicated to the physical and spiritual betterment of that community. She was a mentor, mother, director, teacher, soldier for Christ, and friend. We are confident that she was received into Heaven with open arms and heard the words "well done good and faithful servant."
Survivors include her three sons: Thomas O'Donohue of Lincoln, Brian O'Donohue of Lincoln, and Todd (Cathy) O'Donohue of O'Fallon, MO.; grandchildren: Shaina, Ashley, Kelsie, MacKenzie, Shaylyn, and Nathan; and great grandchildren Isaiah and Harmony.
She was preceded in death by her parents and her brother Terry Britton.
In lieu of flowers, memorial donations may be made to COPE Ministry at ‪PO Box 903 Lincoln, Illinois, 62656‬.