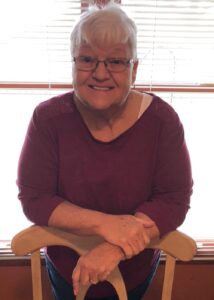 Carol Ann Gabhart was born in Decatur Illinois on August 18, 1954 to Donald Gabhart Sr and Marjorie (Bushong) Gabhart. She married Terry Brooks, Sept 23, 1977 and together, raised 2 sons: Brandon (Michelle) Brooks, Merced CA and Mark (Jennifer) Brooks of Normal IL. Blessed with 3 Grandchildren: Norah, Max and Henry.
Carol has two sisters: Karen Howard and Penny Rentfrow, both residing in Lincoln.
She was preceeded in death by her parents and her brother, Donald Gabhart,Jr.
Carol was employed at Lincoln Developmental Center, retiring in 2002 with 30 years of service caring for those with special needs and developmental disabilities.
She was a loving wife, mother, Grammy, sister… and dear friend, to many.
She enjoyed time spent with family and friends; often sitting quietly, just taking it all in. But those who knew her best, knew she was the one to ask the…who, what and where's…later, as she had a great memory for details.
Carol enjoyed traveling and was always up for a new adventure. The fastest roller coasters, parasailing, helicopter rides, hot air balloons…she tried it all! She especially enjoyed exploring beaches, where, when she was still able, would walk for hours searching for the perfect shell.
But in the end, the adventure she looked forward to the most …was her Heavenly Father calling her home. Oh, how she looked forward to being made whole again and reuniting with loved ones who had gone before her.
The family would like to say a special thank you to the "LDC GALS" for their unwavering support and friendship. Always there to lend a hand and lift her spirits, especially during these last few months. Just dear old friends helping each other get thru life, with lots of love and laughter.
Thanks, also, to the staff at Safe Haven Hospice: Alisia, Lyndsey, Beth, Peggy, Mark and Dr Richards, for their dedication and compassionate care.
Memorial donations can be made to Safe Haven Hospice or to the Atlanta Christian Church youth ministry.
Memorial services will be at 11 AM Saturday, January 30, 2021 at Atlanta Christian Church with visitation from 10-11. Holland Barry & Bennett Funeral Home is assisting the family.
DUE TO HEALTH CONCERNS RELATED TO COVID-19: facial coverings required; and social distance yourself from others.