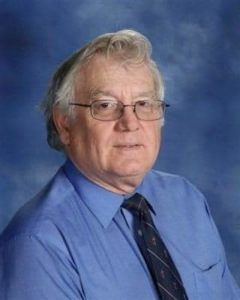 David Jonathon Hutton, 75, of Lincoln, passed away suddenly on April 29, 2020 at Abraham Lincoln Memorial Hospital.
Due to Covid-19 restrictions private family services will be held at Holland Barry & Bennett Funeral Home. Burial will be in New Union Cemetery. A public celebration of life will be at a later date.
David was born July 6, 1944 in Normal, IL., the son of James G. Hutton and Joan (Eckert). He married Patricia Aileen McDole on August 28, 1965.
He was a lifetime minister of the Word, serving currently in the Methodist churches in Lincoln, Chestnut, Latham, and Mt. Pulaski. David graduated from Eastern Illinois University where he played football. He was a history teacher, volunteer firefighter and E.M.T, a civil war buff, and collector of firetrucks and memorabilia.
He made origami planes, firetrucks, and soldiers and left them as tips in several local businesses. David enjoyed driving through the parks and enjoying nature and deer watching with his wife. He was loved by all who met him.
Surviving are his wife Patricia Hutton of Lincoln, IL.; children: Suzi Hutton (Danielle Cook) of Farmer city, IL., John Hutton (Gina) of Noble, IL., Stephen Hutton (Teresa) of Clark, MO., Christy Crawford of Lincoln, IL., and Darcie Valdez (Francisco) of Fort Gordon, GA.; grandchildren: Andrew, Alexis, Austin, and Caleb; great granddaughter Emily Rose; siblings: Phillip Daniel Hutton (Carrie), Mary Hutton (Tamara Reed), and Tom Hutton (Cindy); sister in law Marilyn Mcdole ( David Pashley), several nieces, nephews, cousins and friends also survive.
He was preceded in death by his parents and brother James Hutton.
Memorial donations may be made to Lincoln First United Methodist Church.