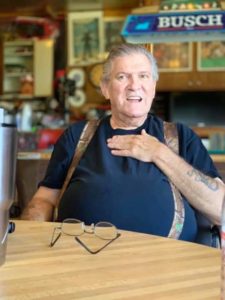 Dennis Lee Moore "Denny", 68, of Atlanta, passed away July 1, 2020 at home surrounded by his family.
Cremation rites have been accorded. A memorial service will be held Saturday, July 4, 2020 at 10 AM at Holland Barry & Bennett Funeral Home.
Denny was born October 28, 1951 in Saline, IL., the son of Leslie and Martha (Prehara) Moore. He married Becky Greathouse on May 13, 1972. She preceded him in death on January 6, 2008. He was a truck driver and a small engine mechanic. He was a member of the APA and enjoyed shooting pool, trap shooting, fishing, camping, and fireworks. He attended firework conventions, shot fireworks, and designed firework displays.
Surviving are his companion Debra Kelly, sons Jason Moore (Loretta Rempe) and John Moore (Michelle Hill); grandchildren Dylan Moore and Chasity Moore; canine companions Susie and Coco; and sisters Sara Moore and Delores Jean Brockschmidt.
He was preceded in death by his parents, wife, and siblings: Wayne Moore, Terry Moore, Kenny Moore, John "Mike" Moore, Margie Moore, and Anita Moore.
Memorial donations may be made to the family or to the charity of the donor's choice.