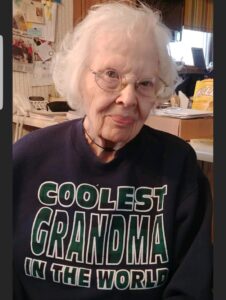 Dorothy M. Taylor Ade, 101 of Lincoln
Passed away October 3, 2020 at her home.
Cremation rites have been accorded by Holland Barry & Bennett Funeral Home. Burial will be at a later date in Oak Ridge Cemetery.
Dorothy was born November 22, 1918 in Kingston, IL., the daughter of Fred and Harriet ( Tower) Taylor. She married William Taylor in 1939. He preceded her in death in 1976. She later married Willard Ade. He preceded her in death.
Dorothy was a born educator. She was always teaching. She received her teaching certificate from NIU in 1938 and her bachelors in teaching from Illinois State. She worked on her Masters at Western Illinois University. She began teaching in a one room school house, then taught at Pleasant Plains and Springfield. She was a member of Immanuel Lutheran Church, the Retired Teachers Association and the Lincoln Woman's Club. She enjoyed reading and bird watching.
Survivors include her children Mary Jean (John) Taylor De Rosier and Katherine L. Taylor Miller; step children Barbara ( Frederick) Baker, Gail ( Ed) Kviz, and James
( Marianne) Ade; grandchildren: Matthew William ( Pam) De Rosier, John Thomas ( Nina) De Rosier, Irwin Todd ( Katherine) Miller, and Nathan Lee ( Krista) Miller; and numerous great grandchildren.
She was preceded in death by her parents, husbands, and brother Leroy Taylor.