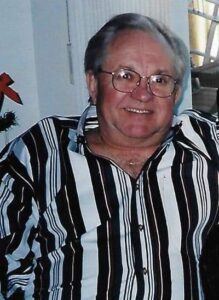 Edward R. Van Dorn, age 83, formerly of Spokane, WA, passed away on 12/9/21 in Tucson, AZ. Ed is survived by his loving wife Maureen; father of Shelley (Rick) Baynard; Cameron (Sarah); Diane (Tony); and Katy (Jason) Challenger; proud grandpa of Kody, Tyler, Taylor (Hannah), Garrett, Christopher, Alex, and Eddie; dear great-grandpa of Kaiden and Carter. He was preceded in death by his daughter Debbie.
Ed joined the Navy after high school and had a two-year pleasure cruise of the South Pacific. He began his business career in LA with Bekins Records Management, a pioneer in Records and Information Management. He joined Records Management Services in Chicago before starting his own business in Central Illinois, Midwest Records Storage, eventually retiring to Tucson, AZ where he worked on his golf game.
Memorial Service Tuesday, 12/14 at 11am with reception to follow at Vistoso Funeral Home, Arizona. In lieu of flowers, donations to Saddlebrooke Community Outreach (https://community-outreach.org).
Local Memorial Services Monday, December 20, 2021 at 1:00 PM at Holland Barry & Bennett Funeral Home. Burial to follow in New Union Cemetery, Lincoln.