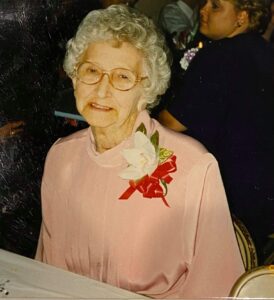 Esther A. Johnson was born April 15, 1919 to William and Helen (Bree) Erdman of New Holland, IL. She passed away January 30, 2021 at St. Clara's Manor in Lincoln, IL.
Private family services will be held at Holland Barry & Bennett Funeral Home. Graveside services will be held Friday, February 5, 2021 at Richmond Grove Cemetery, New Holland, IL. at 1 PM.
Survivors include her son Franklin W. (Norma) Johnson of Cantrall, IL. and daughter in law Janet Johnson of Lincoln, IL; grandchildren: Diane (Bill) Shipton, Todd Johnson, Aaron (Debbie) Johnson, Amy (John) Tabor, Ryan (Becky) Johnson; niece Donna (Chuck) Bruns; 12 great grandchildren; 11 great-great-grandchildren; 3 step grandchildren; and 5 step great grandchildren.
Her grandchildren nicknamed her "Heidi" because she played with them. She was a great cook and always made sure everyone had plenty to eat. She was a loving wife and mother. She will be missed by many.
She was preceded in death by her parents, husband Franklin B. Johnson, and her son Marvin P. Johnson.
Memorial donations may be made to St John's United Church of Christ, Lincoln, IL.