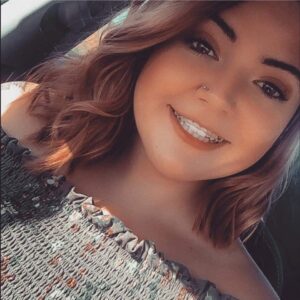 Jeanette Nicole Rice, 21, passed away suddenly November 23, 2020.
Family visitation will be from 5-7 PM Friday, November 27, 2020 at Holland Barry & Bennett Funeral Home. Family funeral services will be at 11 AM Saturday, November 28, 2020 also at the funeral home. Burial will follow in Zion Cemetery.
Due to health concerns related to COVID 19: gatherings limited to 10 people at a time, facial coverings are required, and social distancing practices will be in place.
Jeanette was born September 4, 1999 in Lincoln, the daughter of Ronald Rice and Lori (Weakley) Schroth. She was a 2018 graduate of Normal Community West High School. Jeanette loved to paint, she enjoyed the outdoors; camping, fishing, mudding…….. She was a prissy tom boy. She loved her dogs Ginger and Bear, loved her family; especially her nieces and nephews; she was proud of her job as a CNA and enjoyed helping people. She was beautiful inside and out and will be missed by all who knew and loved her.
Survivors include her father Ronald D. (Jennifer) Rice; mother Lori (Derrill) Schroth; paternal grandparents James and Margie Rice; maternal grandfather Bill Weakley; brothers Eddie (Marsi) Rice and Dalton Schroth; sisters Jessica (Buck) Rifner, Raquel Rice, and McKenna Sampson; nieces and nephews: Aubree, Isabella, Carter, Tegan, Emmalyn, Kaitlyn, Bryson, and Avery; aunts and uncles: Jody Weakley, Vaneza (Matthew) Cook, AJ (Mindy) Weakley; Nickie Rice, Teresa (Kurt) Fitzpatrick, Sam (Gloria) Potter, Jerry (Shelley) Potter, and great great aunt Helen Singley. Several cousins and friends also survive.
She was preceded in death by her maternal grandmother Sandy Weakley.
Memorial donations may be made to her family in care of Ronald Rice or Lori Schroth or to the Humane Society of Logan County.