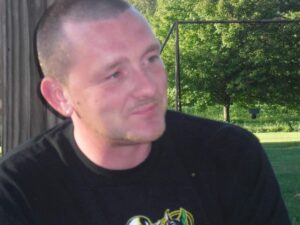 Jeffery Howard Wade, 42, of Springfield, formerly of Lincoln , passed away at his residence of an accidental overdose after a long, hard battle with addiction.
He was born December 29, 1977 in Lincoln, IL., the son of Jess Wade Jr. and Enola "Susie" Patterson. In addition to his mother he is survived by his daughter Cali Shay Wade; brothers Jess Wade and Derek Devine; sister Stephanie Wade, and nephew Christopher Wayne Devine along with many aunts, uncles, cousins, and lifetime friends.
He was preceded in death by his father Jess Wade Jr., his loving grandmother Betty Wade Marvel, and grandfather Jess Wade Sr.
Jeffery was a passionate sports fan that loved the Chicago Cubs. More than anything else, he loved his daughter Cali Shay and the precious time they spent together on fun loving adventures.
Our broken hearts will forever miss Jeffery's contagious smile and amazing sense of humor.
There is no shame. He struggles no more, but is instead flying with the angels. Jeffery, like all the others suffering from addiction, was so much more than his addiction.
Please join us for a memorial gathering honoring Jeffery's life on Saturday, September 5, 2020 from 1-3 PM at Holland Barry & Bennett Funeral Home, 620 Pulaski St, Lincoln, IL. Memorial donations may be made to Liz Bard for an education fund for his daughter Cali Shay.
If you yourself are struggling with addiction, know that every breath is a fresh start. Know that we are praying and rooting for you. Know that we believe you can make it. It is never too late.