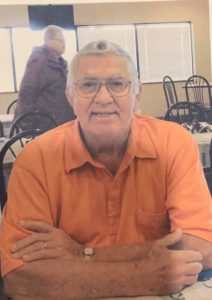 John Allen Aper, 81, of Lincoln, passed away November 24, 2019 at his home.
Cremation rites have been accorded by Holland Barry & Bennett Funeral Home. There will be a memorial service December 7, 2019 at 1 PM at St. John's Lutheran Church, Hartsburg with a lunch to follow.
John was born January 25, 1938 in Emden, IL., the son of John E. Aper and Goldie (Eeten) Aper. He married Patricia Mallinson. She preceded him in death. He was a farmer, retired from BB Milling Company, and was an area school bus driver for several years. He was an active member of St. John's Lutheran Church, Hartsburg. John enjoyed playing cards at the Oasis, attending Hartem sporting events, and spending time with his family.
Survivors include his children: Allen (Cynthia) Aper, Jodell (Larry) Harris, and Janel Aper (Greg); grandchildren: Riley, Erica, Brady, Kalyn, and Mya; great-grandchildren: Paislee, Skylar, and Oliver; and sisters Annie Westen, Goldie Burlingame, and Eileen Hubbard.
He was preceded in death by his parents, his wife, 2 brothers, and 2 sisters.
In lieu of flowers memorials may be made to the Hartsburg-Emden Athletic Department.