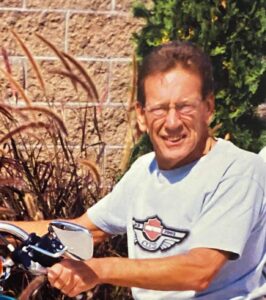 Updated to publish service date/time
John "Jack" S. Yates 1943 – 2021
Lincoln, IL—John "Jack" S. Yates, 77, of Lincoln, Illinois, was taken from this life on January 19, 2021.
Jack was born on August 31, 1943 and grew up in Waynesville, Il the son of Kenneth and Waunita (Reinhart) Yates. Surviving are his children Traci Yates Decatur, Il, Kelly (Paul) Deckard Champaign, IL, son Jason Yates Lincoln, Il and one sister Christy (Jim) Lynch McClean, Il. He also had 3 grandchildren, 2 nephews and sever great nieces and nephews.
Jack enjoyed going to coffee with his friends and always enjoyed the discussions that followed. He was also an avid car enthusiast who especially loved going to car shows and had great appreciation for the muscle cars of the 50's 60's and 70's. In his spare time, he enjoyed detailing cars and could make any car look brand new. He had several hobbies including collecting Lionel Trains but his favorite one was riding his motorcycle through the countryside in the summers. In his younger days he was a weightlifter and an amateur boxer. In his later years he was very involved with Doberman Rescue.
Jack was retired from Easton Corporation in Lincoln, Illinois.
Memorials may be made to the American Heart Association, Doberman Rescue, or the Logan County Humane Society.
Arrangements are being handled by Holland Barry and Bennett Funeral Home in Lincoln, Illinois. Please wear your Harley gear and bring your favoriteJack story to celebrate his life Saturday June 12, 2021 from 1-4 PM at the American Legion in Waynesville, IL.