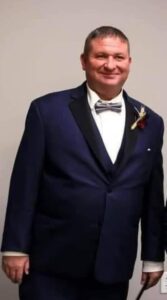 Kent David Meagher, 48, of Mt. Pulaski, passed away March 7, 2023, at home surrounded by his loving family.
Visitation will be from 5-7 PM Monday, March 13, 2023, at Holland Barry & Bennett Funeral Home. Funeral services will be at 11 AM Tuesday, March 14, 2023, with Pastor Paul Weber officiating. Burial will follow in Holy Cross Cemetery, Lincoln.
Kent was born June 30, 1974, in Lincoln, IL., the son of Terry Meagher and Helen (Mileham) Meagher Simmons. He married Nicole Scroggin September 28, 2002, in Lincoln, IL. He was a 1992 graduate of Lincoln Community High School. Kent grew up attending Holy Family Catholic Church. He was employed at Caterpillar.
Kent was a hard, but efficient worker. He loved music, was a sports fanatic, a gearhead, and loved to cook and eat food. Kent enjoyed fishing and being on the water. He enjoyed family gatherings and was a proud grandpa. His grandchildren were the light of his life.
Survivors include his mother, Helen; wife Nicole Meagher; children: Kiersten Meagher (Jaylin Shehorn), Mikaela Barker (Zackery), Braden Meagher, and Wesley Meagher; brother Kevin Meagher and his wife Pamela; grandchildren: Aubree Barker, Makenzie Shehorn, and baby Barker on the way; half siblings: Shelly Spaulding, Summer Meagher, and TJ Meagher. Several nieces, nephews, cousins and friends and his canine companion Bella also survive.
He was preceded in death by his father, aunt Rita Mileham, and cousin Clint Schriber.
Memorial donations may be made to the American Diabetes Foundation or to the family in care of Nicole Meagher and will be accepted at the funeral home.