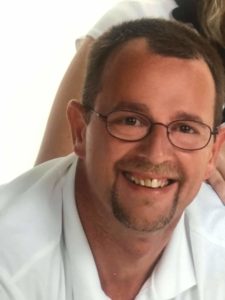 L. Eric Johnson, 58, of Lincoln, passed away at 10:15 PM Monday, November 4, 2019 at his brother's residence surrounded by family.
Visitation will be from 5-7 PM Monday, November 11, 2019 at Holland Barry & Bennett Funeral Home. Funeral services will be at 10 AM Tuesday, November 12, 2019 also at the funeral home with Tracy Thomas officiating. Burial will follow in New Union Cemetery.
Eric was born May 12, 1961 in Lincoln, IL., the son of Lewis L. Johnson and Beverly J. (Worth) Johnson. He was employed as Assistant Manager at the Tropics and most recently as a bartender at Illini Country Club. He was very social and loved people. He was passionate about history, loved watching The History Channel, enjoyed cooking and looking through recipes, and loved working outdoors.
Survivors include his daughter Shelby (Nicolas) Dionicio of Salinas, CA.; granddaughters: Elli and Mikaeyla Dionicio; brother Kimble "Kim" (Lisa) Johnson of New Holland; sister Tamera (Bob) Goodrich of Lincoln; nieces and nephews: Lewis "Chas" (Shay) Johnson, Sydnee Lee Johnson, Maxwell Goodrich, and Molly Goodrich; and great nephews Owen and August.
He was preceded in death by his parents.
Memorial donations may be made to the Elli and Mikaeyla Dionicio Education Fund at State Bank of Lincoln and will be accepted at the funeral home.