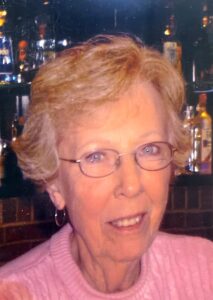 Lela Elizabeth Fitzpatrick, 87, of Lincoln, passed away February 9, 2022, at Memorial Medical Center.
Visitation will be from 4-6 PM Monday, February 14, 2022, at Holland Barry & Bennett Funeral Home. Funeral Mass will be at 11 AM Tuesday, February 15, 2022, at Holy Family Catholic Church. Burial will follow in Holy Cross Cemetery.
Lela was born August 1, 1934, in Lincoln, IL., the daughter of James E. Wyse and Edna (McShane) Wyse. She married Robert D. Fitzpatrick on January 17, 1959, at St. Patrick's Church. He preceded her in death on January 20, 2000.
Lela graduated from Lincoln Community High School in 1952. She was a member of Holy Family Catholic Church, the Knights of Columbus Ladies Auxiliary, and was the organist at St. Patrick's Church for many years. She retired from the State of Illinois in December of 1997.
Survivors include her children: Kevin D. Fitzpatrick, Karen A. Wilson, and Kurt J. (Teresa) Fitzpatrick; daughter in law Kathleen Fitzpatrick; grandchildren: Jason Fitzpatrick, Dr. Jessica (Justin) Dalton, Michelle (Brad) Goodman, Chasen Wheeler, Ryan Fitzpatrick, Kyle Fitzpatrick, and Colin Fitzpatrick; step grandchildren Nick Schriber and Michelle (Izzy) Sandel; great grandchildren: Noah Dalton, Wylan Goodman, Hailey Dalton, Jovi Goodman, and Huston Fitzpatrick; step great grandchildren: Meya Harmon, Chloe Sandel, and Gabe Sandel; sister Carolyn Webster; and several nieces, nephews, cousins, and friends.
She was preceded in death by her parents, her husband, and son Kendall J. Fitzpatrick.
Memorial donations may be made to Holy Family Food Pantry or the organization of the donor's choice.