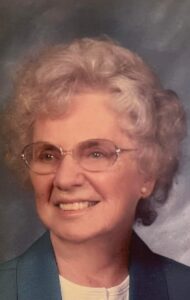 Marian E. "Mickey" Hughes, 98, of Lincoln, formerly of Painesville, OH., passed away September 30, 2022, at Lincoln Memorial Hospital.
Cremation rites have been accorded by Holland Barry & Bennett Funeral Home. A celebration of life will be held Monday, October 3, 2022, at 1 PM at the Christian Village Congregate Building. Burial will take place at a later date in Painesville, OH.
Marian was born April 20, 1924, in Painesville, OH. She married Walter G. "Doe" Hughes on June 11, 1941. He preceded her in death on October 6, 2004. Mickey was a devout Christian. She was a member of Painesville Church of Christ where she was one of the founders of the puppet ministry, taught Sunday School, and was a Youth Leader. She enjoyed crafting, sewing, making puppets and dolls. She also loved to work in the yard, especially gardening. During her retirement, her and her husband spent their winters in Nalcrest, FL. She moved to Lincoln three years ago and enjoyed her time at the Christian Village Congregate Building.
Survivors include her son Dave (Dawn) Hughes of Russiaville, IN.; daughter in law Lindsay Hughes of Lincoln, IL. who was her caregiver for the past few years; grandchildren: John (Lea) Hughes, Amy (Jeff) Hyde, David Hughes II (Sunday), Michael (Tara) Hughes, Kesha (Patrick) Kelly), Nathan (Brandy) Hughes; 11 great grandchildren, and 6 great-great-grandchildren also survive.
She was preceded in death by her parents, her husband, her son Gary Hughes, sister Helen, and great grandchildren Liam and Reece Kelly.
Memorial donations may be made to the Christian Village Congregate Building or to the Painesville, OH. Church of Christ.