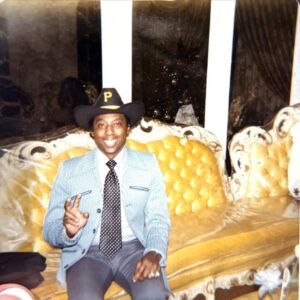 Marvin Louis of Beason passed away on January 16, 2022.
Visitation will be from 11 AM until 12 Noon Saturday, February 12, 2022 at Holland Barry & Bennett Funeral Home. Funeral Services will follow at 12 Noon. Burial will be in New Union Cemetery.
Marvin was born February 3, 1942 in Chicago, IL., the son of Woodson Louis and Gertrude (Matthews).
Music was his passion. He sang in large clubs, even meeting Nat King Cole and other stars. He enjoyed cars, music, the arts, and his family. He was always smiling. Marvin retired from Eaton. He formerly worked as a police officer in Chicago and was employed at the Depot.
He was the last surviving member of his immediate family. Other family members include his nieces and nephews: Raquel Harris, Frank Stancle, Asia Blackfeather, Myron Stancle, Joseph Stancle, Geno Stancle, and several great nieces and nephews, cousins, and friends.
He was preceded in death by his parents, siblings: Queenie Louis, Juanita Nash, Johhny Louis, Fird Louis, Evelyn Stancle, Gloria Diaz, and Shana Parr as well as several nieces and nephews.