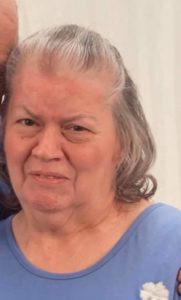 Mary Evelyn Lindish, 72, of Missouri, formerly of Lincoln, passed away June 23, 2019 at her home.
Visitation will be from 10 AM until 12 Noon Friday, June 28, 2019 at Holland Barry & Bennett Funeral Home, Lincoln. Funeral services will follow at 12 Noon and burial in New Union Cemetery will follow the service.
Mary was born March 9, 1947 in Lincoln, IL., the daughter of Everett Goad and Elsie Evelyn (Deckard).
She married Melvin Arndell. He preceded her in death. She then married Harold Paul Boyer. He preceded her in death. She later married John Lindish. He preceded her in death. Mary was a member of Park Meadows Baptist Church. She retired from Lincoln Developmental Center after 30 years in the dietary department. She enjoyed creating wedding cakes and flowers, crocheting, and was always there to lend a helping hand.
Surviving are her children: Penny Evelyn Parshall (David) and Sheila M. Allen (Brian); step children: Susan, Janice, and Mark; grandchildren: Elijah, Caleb, Seth, and Charity Parshall and Faith and Grace Allen; several step grandchildren and great grandchildren; brother Richard Goad; and several nieces, nephews, cousins, and friends.
She was preceded in death by her parents; husbands, step children Randy, and Kevin, and siblings Edward, Everett, and Lester.