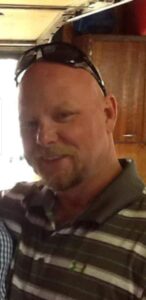 Michael Wayne "Stag" Stagnolia, 50, of Lincoln,passed away February 21, 2021 at University Hospital, Chicago, IL.
Visitation will be from 5-7 PM Thursday, February 25, 2021 at Holland Barry & Bennett Funeral Home. Funeral services will follow at 7 PM with Ryan Edgecombe officiating. Due to Covid-19, social distancing and facial coverings will be required.
Mike was born April 29, 1970 in Anaheim, CA. He owned and operated Stagnolia Carpet Business for several years. He was also employed at Design-It and formerly at Trinity Structures/Arcosa. He enjoyed darts and bowling, was a huge Cincinnati Bengals fan, loved spending time with his grand babies, and had a very close relationship with his nieces and nephews. He was "uncle Mike" to everyone.
Survivors include: his significant other Lija Frye; children Blake Stagnolia, Faith Stagnolia, and Shelbi Frye; grandchildren Easton and Charleigh; siblings: JR ( Anita) Stagnolia, Anita ( Joel) Bruns, Crystal Stagnolia ( Jerry Shasteen), and Fonda Stagnolia. Several nieces, nephews, cousins and friends also survive.
He was preceded in death by his parents David Stagnolia and Ruth
( Newby) Stagnolia, and brothers Paul Hamerski and Jonas Stagnolia.