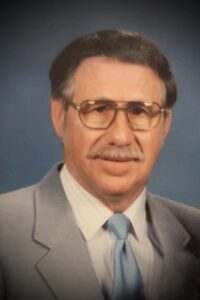 Orville Ray Payne
November 1, 1932-February 26, 2022
He is preceded in death by his wife, Charlene Anderson-Payne, brothers, nephews, and parents.
He is survived by Daughter Tina (husband Kerry) Cox, and Son Matthew (wife Peggy) Payne, Grandchildren Christopher (fiancé` Alicia) Cox, Cory (wife Christa) Rawlins, Matthew Ryan, Morgan (partner Grace) Becker, Hannah (spouse Mike) Payne, and Alex Payne. Six Great Grandchildren, and loving Nieces and Nephews.
Orville Ray Payne grew up on a country farm in Hartsburg, IL and retired in Lincoln, IL. He married Charlene Amelia Anderson on May 6, 1961. He worked at Eaton for many years and was a member of the United States Navy. He loved to show pictures to his family and friends. In his younger years, he enjoyed basketball and cards, especially pinochle. Ray had a heart full of love and would help anyone. If a camera was around, he would be smiling! He loved to make Charlene laugh with his wonderful sense of humor. He loved his Cadillac and kept it polished to perfection and enjoyed fixing things around the house for his family. Holidays and celebrations always made him happy when his family and extended family would gather with him. Each evening for many years, he would go for a walk around the neighborhood to unwind. He was loved by many and will be missed by all.
Orville will be laid to rest with military honors.
Visitation will be from 10 AM until 11 AM Monday, March 7, 2022 at Lincoln Christian Church. Funeral
Services will follow at 11 AM. Burial will be in Hartsburg Union Cemetery,
Holland Barry & Bennett Funeral Home is assisting the family.
In lieu of flowers, please consider sending memorial donations to the Marine Corp League in care of Gene Hickey
795 950th Ave
Elkhart, IL. 62634