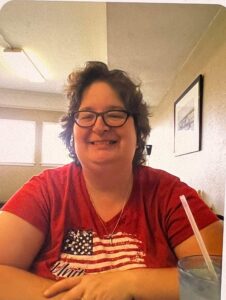 Paula Jean Hall, 50, of Beason, passed away October 10, 2022, at her home surrounded by her husband and son.
Visitation will be from 11 AM until 1 PM Saturday, October 15, 2022, at Holland Barry & Bennett funeral Home. Funeral services will follow at 1 PM with Pastor Ron Otto officiating. Cremation rites will then be accorded.
Paula was born April 22, 1972, in Springfield, IL., the daughter of William P. Irving and Beverly Jean (Barnes). She married Danny L. Hall on June 29, 1996.
She was a member of Lincoln Christian Church. Paula enjoyed shopping with friends and traveling. Her and Dan recently took a three-week trip together. She was employed at State Farm for many years and formerly worked at Illini Bank.
Survivors include her loving husband, her son Byron Hall (Lily Porter), her sister Debbie Quick, and several aunts, uncles, cousins, and friends.
She was preceded in death by her parents.
Memorial donations may be made to the Ovarian Cancer Coalition.