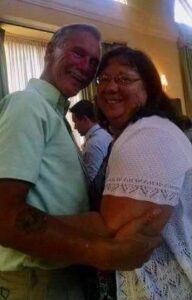 Richard Lee Phillips, 62, of Anchor, passed away March 19, 2022 at home surrounded by his family.
Visitation will be from 10 AM until 12 Noon Saturday, March 26, 2022 at Holland Barry & Bennett Funeral Home with services to follow at 12 Noon. Cremation rites will then be accorded. There will be no burial at this time.
Over the years, Rick enjoyed many hobbies including fishing, hunting/target shooting, golf, rock music(especially Styx), learning guitar, taking his grand kids on tractor rides, and most of all going on adventures with his wife. He loved spending time with his kids and grand kids and catching up with his many friends. His wife and kids along with his many friends and family members were the most important thing to him.
Richard was born January 8, 1960 in Moline, IL., the son of Mary Ann (Parrish) and Ronald Gary Phillips. He married Marcia Lynn (Jacobs) May 17, 1980.
Survivors include his wife Marcia, his mother Mary Ann Sproul. His step father snd his wife Kenny (Jan) Sproul, children: Patrick Phillips (Heather), Holly Rutherford (Jack), and Amber Koke (Chase); grandchildren: Alexia "Lexie" Phillips, Andrea "Grace" Phillips, Gabriella Koke, Gabriel Koke, and Amara Rutherford; siblings: Gary (Annie) Phillips, Betty (Steve) Urmie, Lawrence "Buzz" ( Anne) Phillips, and Kendahl (Brad) Goering. Several nieces and nephews, cousins, and friends also survive.
He was preceded in death by his father.
Memorial donations may be made to the American Heart Association.