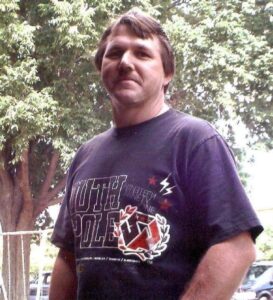 Stephen Lee Nelson, 50, of Lincoln passed away September 17, 2020 at Abraham Lincoln Memorial Hospital.
Visitation will be from 11AM until 1PM Wednesday, September 23, 2020 with funeral services at 1 PM at Holland Barry & Bennett Funeral Home.
Stephen was born July 5, 1970 in Spring Valley, IL., the son of Benjamin and Diana ( Bertalot) Nelson.
He was a self employed carpenter. He enjoyed working on cars and spending time with his grandchildren.
Survivors include his children Megan Nelson ( Jonathon Johnson) and Brandon Nelson; long time companion and mother to his children Chrissy Williams; 6 grandchildren; siblings: Frankie Skelton, Benjamin Nelson, Diana Stropes, Roberta Blair, Rebecca Pride, and Shelly Mullens.
Memorial donations can be made to Holland Barry & Bennett Funeral Home to assist with funeral expenses.