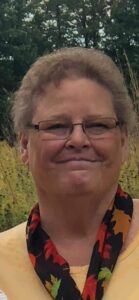 Teri Helton, 68, of Lincoln, passed away October 8, 2022, at her home. Cremation rites have been accorded by Holland Barry & Bennett Funeral Home.
A memorial visitation will be held from 11 Am until 1 PM Saturday, October 22, 2022, at Holland Barry & Bennett Funeral Home. Celebration of Life to follow at 1 PM also at the funeral home. Burial will be at a later date.
Teri was born May 22, 1954, in Lincoln, IL., the daughter of Donald Lolling and Patricia (Cochran) Lolling. She married Randy Helton.
Teri ran a home daycare in Lincoln for many years. She also formerly worked at Lincoln College and Abraham Lincoln Memorial Hospital. She loved children, although her own children and grandchildren were her pride and joy, she loved all of the children she ever watched. She also enjoyed cross-stitch, latch hook, making blankets and afghans, drawing, and painting. She loved and collected sunflowers.
Survivors include her husband, Randy Helton; son Shawn (Shannon) Osland; grandchildren: Brookelyn Osland, Samantha Boyer, Daenerys Osland, Keegin Osland, Kadin Osland, Autumn Osland, Maddilyn, Zaydin, and Kristopher; 7 great grandchildren; stepchildren Samantha Helton and Matthew Helton; step grandchildren: Riley Helton, Kayla Lee, Gracie Lee, Charles Helton, Addison Sidel; brother Allen (Janice) Lolling; and special niece Angie (Randy) Damm and family.
She was preceded in death by her parents, son Chad Osland, and sister Cynthia Mattson.
Memorial donations may be made to Holland Barry & Bennett Funeral Home.