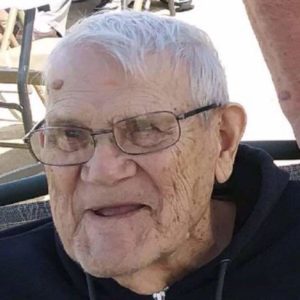 Thomas Everett Becker, 89, of Middletown, passed away September 18, 2019 at Copper Creek Cottages.
Visitation will be from 10 AM until 11 AM Monday, September 23, 2019 at Middletown Presbyterian Church. Services will follow at 11 AM. Burial will follow services in Indian Point Cemetery, Athens. Holland Barry & Bennett Funeral Home is handling services.
Thomas was born November 14, 1929 in Menard, Co., IL., the son of Victor and Mary (McCormick) Becker. He married Ruth Maxine Lambert. She preceded him in death in 1989. He was the owner/operator of Becker TV where he was a television salesman and repairman. He was the Middletown Water Superintendent, was the former Assistant Chief of the Middletown Fire Department, enjoyed remote control airplanes and driving his 1925 Model T Ford.
Surviving are his children: John Becker, David (Alberta) Becker, Barb (Darwin) Kindred; grandchildren: Phillip Barrish, Ashley Nugent, Brandon Becker, Brian Becker, Alexis Becker, Renee, and Kandace (Pablo) Contreras; 12 great grandchildren also survive.
He was preceded in death by his parents, wife, son William Becker, and sister Marianna Lessen.
Memorial donations may be made to Middletown Presbyterian Church.