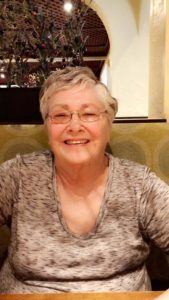 Virginia Ann Frost, 77, of Lincoln, passed away August 11, 2019 at Kindred Hospital, Peoria.
Visitation will be from 10 AM until 12 Noon Saturday, August 17, 2019 at St. John's Lutheran Church, Hartsburg. Funeral services will follow at 12 Noon. Burial will be in Hartsburg Union Cemetery immediately following services. Holland Barry & Bennett Funeral Home is assisting the family.
Virginia was born February 22, 1942 in Lincoln, IL., the daughter of Henry Lolling and Helen (Dengler). She married Bill Phillips and from this union came 4 children. She was a member of St. John's Lutheran Church and was a Master Gardener. She enjoyed gardening, reading, and was an avid St. Louis Cardinals fan. Virginia was employed as a Registered Nurse at St. John's Hospital and at Logan Correctional Center, retiring in 2002.
Surviving are her children: Stephen (Debbie) Phillips, Denise Bartelmay, Ann (Rich) Montcalm, and Christopher (Aundrea) Phillips; grandchildren: Stephanie Birge, Stephen Phillips, Nicole Veech, Nathan Bartelmay, Zac Montcalm, Brooke Montcalm, Shawn Phillips, and Matthew Phillips; 3 great grandchildren; sister Sara (John) Wilham; niece Julie Kuhlmann, Nephew Michael Aper, and several cousins and friends also survive.
She was preceded in death by her parents and several extended family members.
Memorial donations may be made to St. John's Lutheran Church.