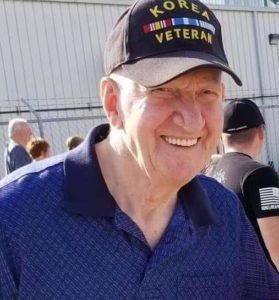 William H. "Bud" Johnson, 88, entered into eternal peace on Sunday, January 7, 2018. He was greeted at the gates of Heaven by his parents William F. Johnson and Gladys M. (Giertz) Johnson, brothers Robert and Jack and sister Patricia Schmock, two sons Michael Johnson and Greggory Johnson, and one grandson Charles "Chaz" Werth.
He was born on May 30, 1930 in Lovington, IL. He married Betty Wilma Dunham on December 22, 1951 in Broadwell, IL. She preceded him in death on December 23, 2018. They celebrated 67 years of life together.
William graduated from Middletown High School in 1948. He proudly served his country in the United States Army. He was known as "Bill" to his co-workers at Caterpillar where he worked for 41 years. He was also employed at Stein Seed Company for 20 years. He was a member of Elkhart Christian Church and the American Legion Post 672 in Middletown. He loved to play baseball and played on several leagues in the area at Memorial Park. After his playing days, he umpired for Lincoln Christian College.
He leaves his loving memories to be cherished by his; loving daughter, Marcia Johnson; brother Kenneth Johnson, brother-in-law Paul Schmock, 7 Grand Children, and 11 Great Grand Children.
Funeral Services will be held Friday, January 11, 2019 at 11AM at Holland Barry & Bennett Funeral Home. Visitation will be one hour prior to the service. Burial will follow services at Kline Cemetery, Broadwell.
In lieu of flowers, memorial contributions may be made to Elkhart Christian Church.