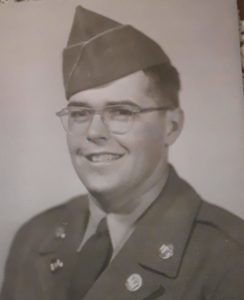 William Howard Doyle, 88, of Lincoln passed away Saturday, June 22, 2019 at St Clara's Manor.
Visitation will be from 5-7 PM Thursday, June 27, 2019 at Holland Barry & Bennett Funeral Home. Cremation rites will then be accorded and memorial services will be held 10 am Friday, July 19, 2019 at the funeral home with burial to follow at New Union Cemetery.
William was born November 14, 1930 in Lincoln, IL., the son of Samuel and Helen (Maltby) Doyle. He married Ruby Holder on April 5, 1953. He proudly served his country in the United States Army during the Korean War. He was a school bus driver for 12 years and retired from the bottle factory after 36 years. He also briefly worked for Hangers Music. Mr. Doyle was a member of the American Legion Post 263, was of the Baptist faith, enjoyed Walker Texas Ranger, Matlock, fishing, and hunting. He enjoyed playing Santa for children during the holidays.
Surviving are his wife Ruby Doyle; daughter Helen Knecht, daughter Mary Doyle, 8 grandchildren, and 10 great grandchildren; and brother Robert Doyle.
He was preceded in death by his parents and his son Howard Doyle.
Memorial donations may be made to the family in care of Helen Knecht to be used for a "Santa Fund" for the Lincoln Christmas Parade.