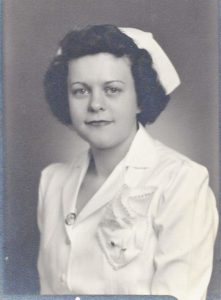 Alice E. Graff passed away May 28, 2019 at Copper Creek Village. She was born September 19, 1926 to Edna and Harry Last. She grew up on their farm outside of Beason, Illinois where she graduated from high school. During WWII Alice signed up for the Army Nurse Cadet Program and received her Diploma Nursing Degree from Memorial Hospital in Springfield, IL. Upon graduation in 1947 she worked as a pediatric nurse in Chicago, IL. until she married her husband, James G. Graff on September 12, 1948. They settled on their farm outside of Middletown, IL. where Alice worked alongside Jim throughout their many years of farming. Although they worked tirelessly on the farm, Alice and Jim always took the opportunity to travel throughout the United States and Europe. She was a member of the Middletown United Methodist Church where she was the pianist for many years and participated in ministries at the church. She was a member of the Middletown American Legion Auxiliary, served as Election Judge for Corwin Township, served as Corwin Township Precinct Committeewoman, and was active in many community activities.
Alice is survived by her husband James and children Ann Abbott (David) of Lubbock, TX; Marilyn Smith of Bloomingdale, IL; Kathy Esker (Fred) of Washington, WV; and William Graff (Judi) of Middletown, IL. She was also the proud grandmother of Davy, Stephen, Suzanne, Theresa, Caitlin, Jeffrey, Sarah, Thomas, Isabella, Zadok, and Theodore; great grandmother of Elena, Alex, Jacob, and Catherine. She was preceded in death by her parents, sister Agnes Tate, son-in-law Joseph Smith, and great grandson James Marion Esker.
Visitation will be from 5-7 PM Sunday, June 2, 2019 at Holland Barry & Bennett Funeral Home, Lincoln. Funeral services will be Monday, June 3, 2019 at 10 AM at Lincoln Christian Church with visitation one hour prior to the services. Burial will follow in Irish Grove Cemetery, Menard County. Online condolences and obituary available at hbbfh.com.