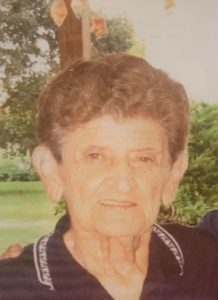 Marguerite W. Sutheard, 93, of Lincoln, passed away June 6, 2019 at St. John's Hospital.
Visitation will be from 5-7 PM Monday, June 10, 2019 at Holland Barry & Bennett Funeral Home. A Funeral Mass will be held at 11 AM Tuesday, June 11, 2019 at Holy Family Catholic Church. Burial will follow in Holy Cross Cemetery.
Marguerite was born March 23, 1926 in Lincoln, IL., the daughter of Walter and Anna (Pomrenke) Sandel. She married Frank Sutheard on March 13, 1965. He preceded her in death on June 6, 2018.
She was a member of Holy Family Catholic Church. Marguerite was formerly employed at Stetson's China Factory and was a retired volunteer in the Grandparent program at Community Action. She was a member of the Moose Lodge, Oasis Senior Center, and enjoyed gardening and cooking. She was raised on the family farm and enjoyed spending her later years as a homemaker.
Surviving are her daughters Margaret (Carl) Wilson and Carolyn (Melvin) Spears; numerous grandchildren, great-grandchildren, and great-great-grandchildren; several nieces, nephews, cousins, and friends; and sister Norrita Hammond. She was preceded in death by her parents, husband, son Greg Kirk, daughters Judith Waters, Rose Kennedy, and Ruth Shepard, 4 sisters, and 2 brothers.
Memorial donations may be made to the family and will be accepted at the funeral home.