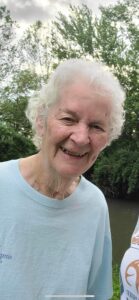 Alice Marie Geriets, 85, of Lincoln, passed away peacefully at her home surrounded by her family on October 25, 2022.
Visitation will be from 10 AM until 11 AM Tuesday, November 1, 2022, at Jefferson Street Christian Church with funeral services at 11 AM. Burial will follow in Mt. Pulaski Cemetery. Holland Barry & Bennett Funeral Home is assisting the family.
Alice was born October 28, 1936, in Mt. Pulaski, IL., the daughter of Carl and Olive (Pope) Goodman. She married Herman Geriets on August 29, 1958. He preceded her in death on November 8, 2019. She was a member of Jefferson Street Christian Church. Alice graduated from Mt. Pulaski High School and was class valedictorian at Lincoln College. She tried everything. She had a variety of jobs and hobbies and excelled at them all. She refinished furniture, enjoyed painting, quilting, decoupage, and writing. She won awards at the fair for some of her artwork. Alice remembered her childhood fondly, growing up in Mt. Pulaski, IL. She was thankful for her big family and all of her siblings. More than anything else, Alice loved her children and grandchildren.
Survivors include her children: Tammy Randall (Kevin DeWulf) and Jody (Beverly) Geriets; grandchildren: Jarron Randall, Joshua Geriets, Derek Geriets ( Desiree Nichols) ; great-grandchildren: Alexis, Jerika, Amaya, Jarron Jr., Caleb, Camden, Cayden, Starry, Jameson, Dominic, and Elliott; great-great-grandson Korbin; and siblings: Violet Beck, Esther Gill, Carl Goodman Jr., Margie Polk, and Susan Roberts. Several nieces, nephews, cousins, and friends also survive.
She was preceded in death by her parents, her husband Herman, grandson Jeremy Geriets, son in law Bob Randall, and siblings Gerald Goodman, Linda Goodman, Donny Goodman, Dennis Goodman, Bobby Goodman, and infant sister Shelby.
Memorial donations may be made to the organization of the donor's choice.