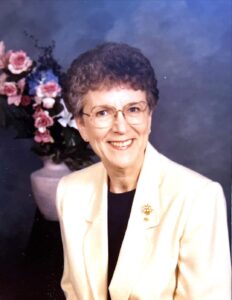 Anna F. "Ann" Koke, 86, of Lincoln, passed away October 18, 2022 at Vonderlieth Living Center.
Visitation will be from 9 AM until 11 AM Monday, October 24, 2022, ay Holland Barry & Bennett Funeral Home. Funeral Services will follow at 11 AM with Tim Searby officiating. Burial will follow in New Union Cemetery.
Ann was born October 6, 1936, in Little Rock, AR , the daughter of Herman G. Kurth and Nellie Ruth (Atchison). She married Henry R. Koke on August 3, 1958. He preceded her in death December 1, 2007. Ann was an active member of Lincoln Christian Church where she was a member of the Beacon Sunday School Class, taught Bethel Bible Series, was active in the Harvest of Talents, and taught nursery school for twenty years. She was an avid St. Louis Cardinals fan.
Survivors include her children Carol Ann (Richard) Meyer and Michael Robert Koke; grandchildren: Cory (Christa) Rawlins, Cody (Emily Rehder) Koke, Chad (Heather) Koke, Chase (Amber) Koke; great-grandchildren: Avery and Addison Rawlins, Gabriella and Gabriel Koke, Jarrett, Jade, and Eva Koke, and Carter Koke. Several nieces, nephews, cousins, and friends also survive.
She was preceded in death by her parents, her husband, and her brother Lawrence Crawford.
Memorial donations may be made to Logan County Relay for Life or to Harvest of Talents at Lincoln Christian Church.
Lesleigh Bennett
Holland Barry & Bennett Funeral Home