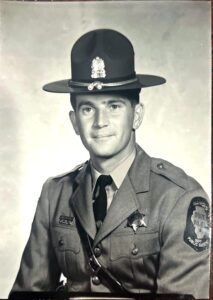 Michael Alvin "Mike" Tackett, 78, of Lincoln, passed away October 14, 2022, at Carle BroMenn Medical Center.
Cremation rites have been accorded by Holland Barry & Bennett Funeral Home. No services are scheduled at this time.
Michael was born July 28, 1944. He was raised by his mother Eileen (Gant) and stepfather Fred Jones. He proudly served his country in the United States Army serving one year in Germany and one year in Vietnam. He married Peggy (Hayter) on June 24, 1985. Mike retired from the Illinois State Police after 30 years of service. He was active in the Lincoln American Legion Post 263. He was an avid St. Louis Cardinals fan.
Survivors include his wife Peggy Tackett, daughter Michelle (Shannon) Sniff-Banzhaf, son Robert (Claire) Sniff, grandsons Brandon (Paul) Rahn and Justin Sniff, several great grandchildren, brother Dan (Carol) Tackett, sister Alice (Harry) Bloomgren, sister Becky (Jon) Rich and several nieces and nephews.
He was preceded in death by his parents and an infant sister.
Memorial donations may be made to the Lincoln American Legion Post 263.