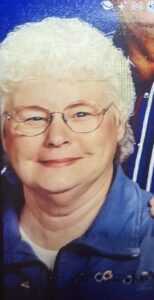 Barbara A. Miller, 85, of Lincoln, passed away August 11, 2023, at Highland Health Care Center.
Visitation will be from 11 AM until 1 PM Thursday, August 17, 2023, at Holland Barry & Bennett Funeral Home. Funeral services will follow at 1 PM and burial will be in Irish Grove Cemetery, Middletown.
Barbara was born April 4, 1938, in Mason City, IL., the daughter of Herbert J. Snyder and Matilda (Tackman) Snyder. She married Orville J. Miller, JR. on July 2, 1955, and he preceded her in death October 21, 2016. She retired as a CNA from The Christian Village. She also worked in the lunchroom at Central School for many years and as a waitress in Latham. Barbara loved her grandchildren, she enjoyed racing and the demolition derby and especially loved watching her grandchildren Ryan and Barandon race. She enjoyed music and never missed an opportunity to see her son in law Rick and grandsons play. She enjoyed fishing, garage sales, and bingo. She was a loving mom and grandma, and she will be missed by everyone who knew and loved her.
Survivors include her daughters Paula (Tony) Dinger and Karen (Rick) Letterle; grandchildren: Terry Miller, Christina Awe, Davey Dinger, Jeff Letterle, Jennifer Dinger, and Anthony Dinger; several great grandchildren and great-great-grandchildren; brother Terry Snyder and sister Esther Smith.
She was preceded in death by her parents, her husband, brother Dickie Snyder and sisters Wilma Jones, Doris Jennings, and Marjorie Boward.