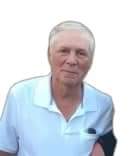 Ben Lessen, 74, of Lincoln, passed away November 10, 2022, at Hopedale Medical Complex.
Funeral services will be at 10 AM Wednesday, November 16, 2022, at Holland Barry & Bennett Funeral Home with Ryan Edgecombe officiating. Burial will follow in Zion Cemetery.
Ben was born March 21, 1948, in Lincoln, IL., the son of Joe J. Lessen and Bernice (Bruns) Lessen. He married Charlene Hart on June 9, 1968.
Ben was a lifelong farmer, starting at a young age on his family farm. He was an avid golfer. He and Charlene enjoyed their winters in Port Charlotte, FL. where they made many memories. Ben was a skilled carpenter, building and remodeling several houses. He was a proud member of the West Lincoln School Board for several years and was a past president of the board. He was also a member of the Farm Credit Board.
Survivors include: his wife Charlene Lessen; children Sheila (Jeff) Nelson, Daniel Lessen, and Ashley (Aaron) Klockenga; grandchildren: Jordan Nelson, Abbey (Conor) Smith, Camden Nelson, Lexee Klockenga, and Adrienne Klockenga and her fiancé Camden Uhlry; great grandson Bennett Crewse Smith; brother Larry Joe (Beverly) Lessen; and several nieces, nephews, cousins, and friends.
He was preceded in death by his parents, granddaughter Olivia Nelson, siblings Nora Mae Lockenour, Jim Lessen, and Marvin Lessen, nephews Timothy Lessen, Jake Lessen, and Kevin Lessen and niece Kathy Hickey.
Memorial donations may be made to the American Cancer Society, St. Jude's Children's Research Center, or to the Land of Lincoln Honor Flight and will be accepted at the funeral home.