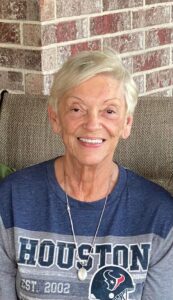 Cheryl Diane Danley, 79, of Lincoln, passed away November 12, 2022, at her home surrounded by her children.
A celebration of life will be held Wednesday, November 16, 2022, from 4-8 PM at the Eagles Lodge 2708. Cremation rites have been accorded by Holland Barry & Bennett Funeral Home. Burial will be at a later date with her husband.
Cheryl was born July 15, 1943, in Mattoon, IL., the daughter of Chester A. Oakley and Cletis Mae (Latshaw) Oakley. She married Robert "Bob" Danley on June 24, 1975, in St. Louis, MO. He preceded her in death August 3, 2017. Both Cheryl and Bob were very active in the Eagles Lodge 2708 in their earlier years. She enjoyed watching the Hallmark channel. Her family was her pride and joy.
Survivors include her children: Kevin Danley, Kelly Bixler (David), Kitty Ayde (Bandy), Tish Wilkes (Trent), Cyndi Carlen (Ron Carpenter), Stacey Carlen (Jay Babbitt), and Amy Yarbrough (Robert); 20 grandchildren; several great-grandchildren and great-great-grandchildren; and brothers Greg Oakley (Kathy) and Mark Oakley (Leigh).
She was preceded in death by her parents, her husband Bob Danley, grandson Todd Blaum, 1 brother and 2 sisters.
Memorial donations may be made to the American Cancer Society or the Alzheimer's Association.