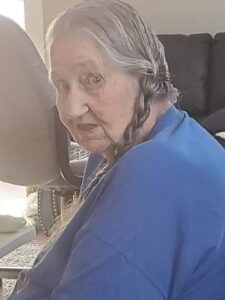 Betty Lavonne Deangelis, 91, of Lincoln, passed away February 9, 2021 at home surrounded by her loving family.
Visitation will be from 2:00 – 3:00 PM Saturday, February 13, 2021 at Holland Barry & Bennett Funeral Home with funeral services to follow at 3 PM with Larry Crawford officiating. Due to precautions for Covid-19 social distancing must be practiced and masks must be worn.
Betty was born December 2, 1929 in Indianapolis, Pennsylvania, the daughter of John Washington Frye and Mary Elizabeth (Bhe) Frye. She married Louis Joseph Deangelis Sr., he preceded her in death. She was a homemaker and enjoyed taking care of her family. She also enjoyed crocheting, playing bingo, watching games shows and SBN with Jimmy Swaggart and The Gaither's.
She is survived by her children: Michael Keith Deangelis, Donald Ray Deangelis, Gloria Katherine Cosme, Bonnie Jean Sines, Mary Lou Seville, and Lois Annette Daugherty. Numerous grandchildren, great-grandchildren, and great-great-grandchildren also survive as well as her brother Norman Clare Frye.
She was preceded in death by her parents, husband, sons Louis Joseph Deangelis Jr. and John Richard Deangelis, 3 sisters, and 3 brothers.
Memorial donations may be made to the Humane Society of Logan County and will be accepted at the funeral home.