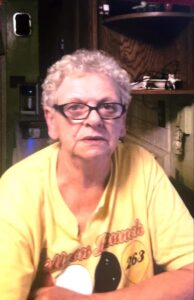 Betty Lou Prince, 80, of Lincoln, passed away July 3, 2023 at Memorial Medical Center, Springfield.
Visitation will be from 11 AM until 1 PM Monday, July 10, 2023 at Holland Barry & Bennett Funeral Home. Funeral services will follow at 1 PM also at the funeral home. Burial will be in New Union Cemetery.
Betty was born July 23, 1942, in Larue County, Kentucky, the daughter of William Edgar Curry and Opha Lena (Druen). She married John L. Prince May 16, 1962. He preceded her in death on April 5, 2002. Betty graduated high school from Larue County High School in Larue County, KY. She was employed at Cutler Hammer in Lincoln for many years. Betty loved her family and was very family oriented. She enjoyed coffee, bingo, playing poker machines, crocheting, decorating, sewing and quilting. She was not a fisherman but was known to out fish her husband and son. Betty loved her canine companion Swatch.
Survivors include her children: John L. Prince Jr. (Jeanie) of Sebastian, FL., Mark D. Prince (Denise) of Marion, IL., Beth A. Prince Hart of Lincoln, IL., Bobby J. Prince (Elizabeth) of Lincoln, IL., Michael R. Prince (Susie) of Streator, IL, and Roger L. Prince of Lincoln, IL. ; 14 grandchildren; 34 great grandchildren; 1 great great grandchild; her siblings: Charles Curry, Joyce Whitlock, Anna Skaggs Bailey, Melcenia Sprowls, and Navonna Singer. Several nieces, nephews, cousins, and friends also survive.
She was preceded in death by her parents, husband John, sister Barbara Dye, and great granddaughter Kennedy Freese.
Memorial donations may be made to the American Cancer Society and will be accepted at the funeral home.