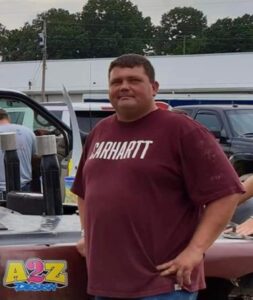 Jason Lee Bradburn, 44, of Hartsburg, passed away June 27, 2023, at his home.
Visitation will be from 4-7 PM Thursday, July 6, 2023, at Holland Barry & Bennett Funeral Home. Casual dress, especially Derby gear, is requested. Funeral services will be at 10:30 AM Friday, July 7, 2023, also at the funeral home. Burial will follow in New Union Cemetery.
Jason was born August 27, 1978, in Lincoln, IL., the oldest son of James "Jim" and Sheila (Hoffert) Bradburn. He worked hard to provide for his family. His company, J& A Concrete, was successful because of his work ethic. He had a fierce love for his family, he was their protector. His kids and grandkids were everything to him and he showed that every day. Jason had a big heart and would do anything for a friend. Demolition Derby was in his blood. He loved the sound of the engines, the roar of the crowd, the feel of the hit, and the thrill of victory. He found a second family in his demolition derby community and his loss will be felt by all who knew and loved him.
Survivors include his grandfather Ernie Hoffert, his dad Jim Bradburn, the love of his life Amanda Rankin, his children: Brandon Rankin(Sarah), Krissa Bradburn (Aaron Thornton), Alaina Bradburn, Jasey Bradburn, and Jozalynn Babbs; his grandchildren Isaac Rankin, Kynlee Thornton, and baby Willow Rankin; siblings: Chris Bradburn, JJ Bradburn, and Nicki Bradburn. Several nieces, nephews, cousins, and friends also survive.
He was preceded in death by his grandmothers Mina Bradburn and Ruth Hoffert, grandfather Joe Bradburn, and his mother Sheila Bradburn. Memorial donations may be made to Holland Barry & Bennett Funeral Home or to the family to assist with expenses.