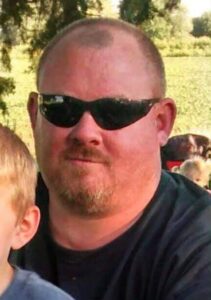 Brian Douglas Clark of Lincoln passed into the arms of Jesus on Monday, March 15, 2021, surrounded by family at St. John's Hospital in Springfield.
Brian was born August 24, 1974 in Lincoln, IL, the son of Norm Clark and Gail (Appel) Clark Guzzardo.
He was a 1992 graduate of Lincoln Community High School where he avidly enjoyed playing football, weight lifting and wrestling. One of his favorite things throughout his youth was 3-wheeling with his Dad, Uncles and Cousins.
Brian worked for his Dad all through junior high and high school and commanded the ground operations of Norm Clark Flying Service, Inc. with incredible skill during that season of life. He drove a semi for Clark Transportation of Lincoln for several years after high school and then apprenticed to Local #965 out of Springfield where he became an Operating Engineer for the rest of his career.
Brian's passion for anything aviation-related started at a very young age and was evidenced by things that he treasured and his later love of flying RC planes. He loved to tell stories (with more detail than many had patience for) and was known for much hilarious commentary and one-liners. His ability to pull up a quote, scene or line from a movie and make an analogy to a situation was often entertaining.
He had a tremendous love of helping others who were struggling in life and was always known for his gruff exterior that housed a very tender teddy bear heart.
His greatest pride in life was in his two boys Cole and Remington who he loved with all his being. Brian entered their life as Protector and Guardian Angel when they were at a very young age. He became their official Foster Parent many years ago, and finally on March 9, 2021 (Cole's Birthday) was given the privilege of signing all the papers to complete their Adoption and to give them his name, culminating a long-awaited process that he had worked on for years. It was a very happy day for his entire family who so-love these little guys, but especially for Brian.
Brian was baptized by his Dad on April 17, 1987 at Lincoln Christian Church where he was a member, and his faith carried him through many crises in life. He loved the stories of the Bible and having daily discussions about them with his boys and how God had carried him through so many life situations.
Brian was preceded in death by his Father Norm Clark and Grandparents Leon Appel, Byron Clark and Doris Clark Dancy, his Aunts Gloria and Rhonda, and much-loved Cousins Clint and Betsy.
He is survived by his boys Cole Sarver Clark (age 12) and Remington Sarver Clark (age 7) of Lincoln, Danyelle Sarver of Springfield who calls Brian her Guardian Angel and father-figure, Mother Gail Clark Guzzardo (John) of Lincoln, Sister Krista Clark McBeath (Robert) of Bloomington, Niece Jillian McBeath, Maternal Grandmother VevaAppel, Paternal Grandfather Mac Dancy, the finest cousins the world has to offer (many like siblings), and an incredible network of Aunts and Uncles who greatly shaped and influenced his life.
Services for Brian will be at 11:00 am Saturday, March 20 at Holland, Barry & Bennett Funeral Home. Visitation is from 9:30 to 11:00 prior to the Service. (Masks Required) In honor of Brian, Casual Attire is suggested. Camo was his favorite "color".
If you loved Brian and wish to make a memorial, a Custodial Fund is being set up for Sons Cole and Remington who have lost their hero and can be made online via https://gofund.me/cbba53b8 or by check made out to Krista McBeath. It is the most fitting tribute to these boys who made Brian the father he always wanted to be.
A private family burial will be held at a later date.