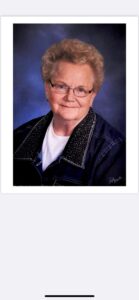 Carol June Cooper, 87, of Lincoln, passed away May 6, 2022, at St. John's Hospital.
Visitation will be from 10 AM until 12 Noon, Wednesday, May 11, 2022, at Jefferson Street Christian Church. Services will follow at 12 Noon. Burial will be in Richmond Grove Cemetery, New Holland. Holland Barry & Bennett Funeral Home is assisting the family.
Carol was born April 6, 1935, in Lincoln, IL., the daughter of Hal Lewis and Sue Ellen (Trommer). She married Roy Dean. He preceded her in death July 29, 1965. She married William D. Cooper November 3, 1967. He preceded her in death February 20, 2006. Carol retired from District 27 as a teacher in 1994. Carol taught at Adams, Central, Lincoln Junior High, and then was a substitute teacher. She loved spending time with her family, gardening, reading, and watching hummingbirds.
Survivors include: Her son Dennis (Hollie) Dean, son Gary (Annie) Cooper, daughter in law Anita Dean, son Dan Dean, and son Bill (DeAnn) Cooper; 8 grandchildren; 7 great grandchildren; sister Janet Kvitle, and nieces, nephews, cousins, and friends.
She was preceded in death by her parents, husband, son Allan Dean, sister Pat Hamilton, and brother Lee Lewis.
Memorial donations may be made to the American Cancer Society or to Jefferson Street Christian Church.