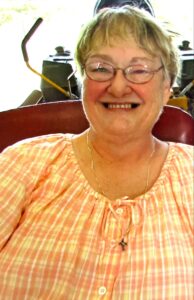 Carol Sue (Sooky) Liesman, 72, of Lincoln, passed away unexpectedly in her home on February 4, 2023.
Funeral services will be at 10 AM Tuesday, February 14, 2023, at Sonrise Fellowship Church, 601 Pulaski Street, Lincoln, Illinois with pastor Mike Lake officiating. Burial will be at a later date in Zion Cemetery. Holland Barry & Bennett Funeral Home is assisting the family.
Carol was born in Lincoln, Illinois on March 13, 1950, to Orville and Thema (Smalley) Liesman. She was a devout Christian and was beloved by her brother Gary (Kathy) Liesman of Lincoln, Illinois and her three sisters: Maggie (Gary) Lawson of Fort Walton Beach, Florida, Corky (Mark) Young and Neecy (Steve) Vinyard all of Lincoln, Illinois. Many nieces, nephews, cousins, and friends also survive.
She was preceded in death by her parents and two brothers: Orville Dale (Maureen) Liesman and Barney Liesman.
Sooky loved taking care of others (especially her family), working at her church, cooking for others, and watching the Cubs on television. What Carol loved the most was her Savior, Jesus Christ! What a prayer warrior she was! Her big infectious smile and her kind and caring heart will be missed by all who truly knew her. Karo (as her best friend Terri called her) has entered the gates of Heaven and there is no doubt she was met by her Lord saying, "Well done good and faithful servant."
Memorial donations may be made to Sonrise Fellowship Church.