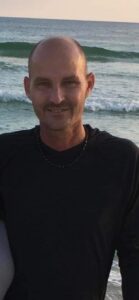 Caleb Henry Peacock, 47, of Woodson, IL., passed away February 3, 2023, at Memorial Medical Center.
Caleb's wishes were to be cremated. Holland Barry & Bennett Funeral Home in Lincoln, IL. is assisting the family.
A memorial service will be held at
1:00 PM Friday, February 10, 2023, at Open Arms Christian Fellowship, Lincoln. Pastor Larry Crawford will officiate.
Caleb was born August 16, 1975, in Rushville, IL., the son of Gerry L. Peacock and Joyce (Hulvey) Peacock. He was united in marriage to Lisa Cully on June 26, 2021. Caleb formerly worked as manager at RP Lumber and Alexander's Lumber. He was a lifelong Chicago Cubs fan. He loved sports and was the former girls basketball coach at Carroll Catholic School. He was known to always have a Mountain Dew and a Reeces peanut butter cup. Caleb was generous, always helped those in need, and was a lighthearted jokester. He took great pride in being a dad and was always at all of the kids activities.
Survivors include his parents Gerry and Joyce Peacock; his wife Lisa Peacock; his daughters Jade Peacock, Sesleigh Peacock, Zoey Peacock, and Jory Peacock; sons Logan Cully and Evan Cully; grandchildren Joseph Nugent and Wednesday Nugent; brothers Thomas (Robin) Peacock and Edson (Sandra) Peacock. Many aunts, uncles, nieces, nephews, cousins and friends also survive.
He was preceded in death by his grandparents.
Memorial donations may be made to the American Cancer Society.