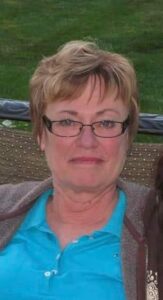 Carolyn Marie Fults of Lincoln, passed away February 19, 2022 at Memorial Medical Center.
Cremation rites have been accorded by Holland Barry & Bennett Funeral Home.
Services will be held Saturday, February 26, 2022, at Faith Lutheran Church with the visitation at 10 AM followed by a Memorial Service at 11am.
Carolyn was born March 2, 1950, in Lincoln, the daughter of Harold Donald Teichman and Lucy Marie Summers. She graduated from Lincoln Community High School and Olney Central College. Carolyn worked as a dental hygienist, was employed at Lincoln Correctional Center, and more recently was an optician prior to her retirement.
She loved her family dearly and took every opportunity to spend time with them. Carolyn was incredibly proud of her children and grandchildren. Her grandchildren were the light of her life; she would share stories and pictures of them to everyone she encountered. She cared greatly for her grandchildren's happiness. She held friendships deeply in her heart. She loved her dogs, always having one or two in her home. Carolyn loved the solitude of nature (please remove). She enjoyed gardening and every evening in the summer she sat outside and enjoyed the quiet. She liked to crochet and made numerous beautiful gifts for her family. Carolyn enjoyed movies, reading, music, and puzzles. She greatly enjoyed traveling with her family and to see her family. She was a wonderful cook and her talents extended to canning and preserving the harvest from her garden. She passed on those skills to both of her daughters.
Carolyn was beautiful and strong. Her strength was evident in every part of her life. She taught her family so much about moving past hard times without looking back. Carolyn took pride in being a strong and independent woman, a trait she extended to both of her daughters. She loved her family. She will be deeply missed.
Survivors include her children: Casie (Jason) Schmidt, Bobbie (Damon) Fults- Babbs, and Paul Freehill; several grandchildren and great grandchildren; and siblings Nelson (Dietra) Teichmann and Myrna Rose.
She was preceded in death by her parents.
Memorial donations may be made to the Faith Lutheran Education Fund.