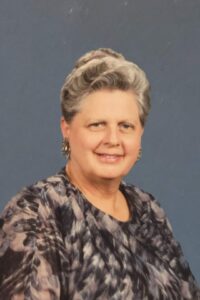 Charlene Amelia Anderson Payne, 86, of Lincoln passed away February 18, 2022 at Decatur Memorial Hospital.
Cremation rites have been accorded by Holland Barry & Bennett Funeral Home.
Charlene Payne was a resident of Lincoln, IL, and a member of Lincoln Christian Church. She was happily married to Orville Ray Payne for 61 years and raised two wonderful children with him. She was active in her family's lives, she never missed the opportunity to give a birthday card. She always gave Christmas socks with a little treat inside to loved ones. Charlene was well known in the community, so well-known that just hearing her name would spark a conversation about what she or her children were up to. She helped so many friends and family through her connections that way. She was a beautician at Lincoln Christian Village for many years until she retired to stay home with her husband to care for him. Anytime you called, you would always hear, "Hi Honey", a phrase that will never be forgotten because of that sweet voice. She was selfless and nuturing. Charlene had a smile that would light up a room and a contagious laugh. She always put others first and loved to give gifts so that they would smile. She was a loving wife, adoring sister, amazing mother, incredible grandmother, and aunt. Her memories will carry on with all who were blessed to be loved by her and know her.
She is survived by her husband Orville Ray Payne, Daughter Tina (husband-Kerry) Cox, Son Matthew Ray (wife-Peggy) Payne, and Sister, Ruth "Snooki" (husband-Tommy) Davis. Her Grandchildren: Christopher (fiancé-Alicia) Cox, Matthew Ryan Payne, Morgan Becker (partner Grace), Hannah Payne (spouse Mike), & Alex Payne. Great-grandchildren: Kalliana, Kaden, Kalvin Becker, & Sophia Kieffer. Her niece Danielle Davis, great-niece Madeline & great-nephew Davis Landgrebe.
She is preceded in death by her brothers Bub and Ricky, and her loving parents.
A memorial service for friends and family will be held at Lincoln Christian Church at 11:00 AM, Thursday, February 24, 2022, with a lunch to follow at 12:00 PM.
In lieu of flowers, please consider sending memorial donations to the Marine Corp League in care of Gene Hickey
795 950th Ave
Elkhart, IL. 62634