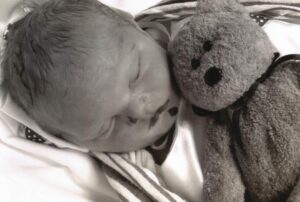 Cayde Eugene Transou, infant son of Shae Fulmer and Jakob Transou passed away January 2, 2022 at Memorial Hospital of Carbondale.
Visitation will be from 10 AM until 11 AM Thursday, January 6, 2021 at Open Arms Christian Fellowship with funeral services following at 11 AM. Holland Barry & Bennett Funeral Home is assisting the family.
Surviving Cayde are his parents Shae Fulmer and Jakob Transou; his brother Jaxon Transou; paternal grandparents Jason and Michelle Transou, maternal grandparents Randy Fulmer and Shawna Meserole; paternal great grandparents Diane and Jim Brandau and Jack Transou; maternal great grandparents Donna Berry and Donna Meserole; paternal great-great-grandparents Barb and Bob Brandau and Rita Heeren; uncles Gabriel Fulmer, Nathan Fetzer (Christina), Jaron Transou; aunt Jalon Transou; and several cousins, extended family members and friends also survive.
He was greeted in Heaven by his Great Grandparents: Kevin Berry, Theodore Meserole, and Peggy Transou, and his great-great-grandparents Pat and Joe Robinson and Betty Fulmer.
Memorial donations may be made to the family.