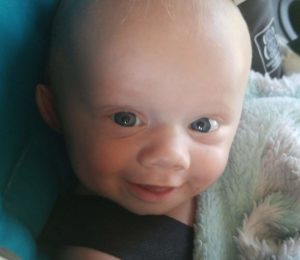 Cayden Richard Moon-Schaub, 5 month old son of Austin Schaub and Alia Moon, passed away suddenly June 29, 2019 at Abraham Lincoln Memorial Hospital.
Visitation will be from 2 PM until 4 PM Friday, July 5, 2019 at Holland Barry & Bennett Funeral Home with funeral services following at 4 PM also at the funeral home.
Cayden was born January 23, 2019 in Lincoln, IL. He loved to laugh and had beautiful blue eyes that lit up the room. He loved water, his blankie, and his twin brother Peyton.
Surviving are his parents Austin Schaub and Alia Moon; siblings: Jameson Moon-Tillquist, Emersyn Moon-Schaub, and his twin brother Peyton Moon-Schaub; maternal grandparents Gene and Vicky Moon; paternal grandparents Richard and Jessica Schaub; maternal great grandmother Marjorie Sullivan; paternal great grandparents Paul Schaub, Richelle Barger, Lorrie Hinkle, and Francis and Katherine Merreighn; several aunts, uncles, and cousins also survive.