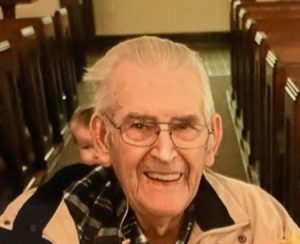 Robert F. Lessen, 90, of Lincoln, passed away June 29, 2019 at The Christian Village.
Visitation will be Wednesday, July 3, 2019 from 5-7 PM at Holland Barry & Bennett Funeral Home. Due to the 4th of July holiday, funeral services will be 10 AM Friday, July 5, 2019 at St. John's Lutheran Church in Hartsburg with visitation one hour prior to the service. Burial will follow in Hartsburg Union Cemetery. Ryan Edgecombe will officiate.
Robert was born November 17, 1928 in Hartsburg, IL., the son of Heiko and Matilda (Sampen) Lessen. He married Marianna Becker in 1954. She preceded him in death in 2001. He married Bertha Ahrends in 2004. She survives.
Robert was a life long farmer. He owned and operated his own corn shelling business. He was a member of the Lincoln Land Antique Tractor Club, the Logan County Farm Bureau, was a former Trustee of the Hartsburg Fire Protection District, attended Hartsburg Methodist Church and St. John's Lutheran Church in Hartsburg, and was a member of KOGUDUS renewal ministry.
Surviving are his wife Bertha Lessen, sons: Richard (Karen) Lessen, Jerry (Melinda) Lessen, Duane (Sally) Lessen, and Eldon (Martha) Lessen; 11 grandchildren; 5 great grandchildren; brother William "Bill" Lessen; and several nieces, nephews, cousins, and friends.
He was preceded in death by his parents, first wife Marianna Lessen, sister Marjorie Bathe, and brother Alan Lessen.
Memorial donations may be made to ALS Awareness or to The Cochlear Implant Awareness Foundation and will be accepted at the funeral home.