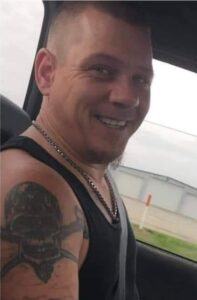 Chad Osland, 43, of Lincoln, passed away June 27, 2022.
Cremation rites have been accorded by Holland Barry & Bennett Funeral Home. A memorial visitation will be held from 11 AM until 1 PM Saturday, July 2, 2022, at Holland Barry & Bennett Funeral Home. A memorial ride will follow at 1 PM.
Chad was born July 4, 1978, in Lincoln, IL., the son of Allen and Theresa (Lolling) Helton. He loved to ride his motorcycle. He also enjoyed tattoos and was an accomplished tattoo artist. He loved to camp and fish. Chad was a spontaneous free spirit. He wore his heart on his sleeve and you always knew where you stood with him. He loved his kids and grandkids so much. He will be missed by all who knew and loved him.
Survivors include his mother Teri (Randy) Helton, children: Keegin, Kadin, Autum, Maddilyn, Zaydin, and Kristopher; special niece Brooke; grandchildren Alaina and Sawyer; and brother Shawn Osland (Shannon).
He was preceded in death by his grandparents, his father, and his ex-wife Brook Baker Osland.
Memorial donations may be made to the family and will be accepted at the funeral home.